The Tyra Banks Story
So I felt like it was probably a good idea to share the whole story for those who want to hear it (for those who don't, feel free to skim:-)
It all started with that little e-mail I mentioned yesterday. It came through about 2:30pm (I was diligently working, of course!) so on a whim, assuming it was a prank, I called the number and lo and behold it really was a producer from the Tyra show. She quickly explained that they were doing a show about witchcraft and that she had read an
article on CBN
and thought I would be perfect for the show. Perfect meaning that they wanted the show to be "balanced" and having me on to share about becoming a Christian and coming out of witchcraft. Oh, and could I be ready in 30 minutes?
I said yes. How could I not? The chance to be a light in the midst of a dark show like that doesn't come along very often. It was as if God had pointed at me and said, "Go be my witness." So by 5:00 they had sent a car to my driveway to take me to the airport.
I don't think the reality of what I was suddenly doing hit me till later. I spent my trip up to the airport trying to call people so that they would pray for me. I'm no fool - I knew I would be up against some serious spiritual forces. And I had to fill my husband in on the preschool carpool and doctors appointments.
When I got to LA, my driver was waiting at the airport with a sign - with my name on it. I've never been one of those people who had a car waiting for them before.
He took me to my hotel, but since it felt like three o clock in the morning to me, I opted to sleep instead of walking around Hollywood - by myself - at night.
It was a rough night,I started waking up at 4am and never really was able to get back to sleep. Finally, I gave up and ordered room service (another first). A fruit plate and some coffee that cost $30. Here's my breakfast:
CBS had put $40 on the account for me to spend for food so I figured I might as well enjoy it! Thanks to my hubby, I also got a call from two of my friends from
Act One
. And my jobless friend offered to come with me for the day. I was thrilled to have a friendly face with me so he came over to the hotel so he could ride to the studio with me.
At my hotel in the heart of Hollywood: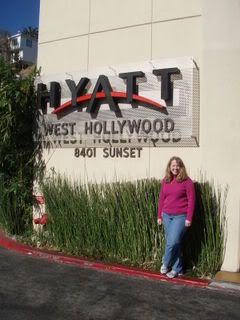 Then, this pulled up to take me - ME - to the studio: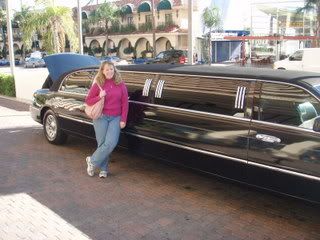 Yeah, I've been in a limo like this exactly twice in my life.
So I had some fun: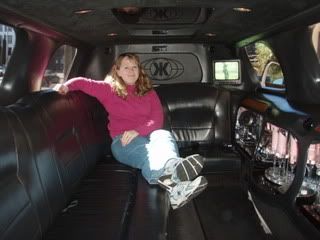 Anthony and me, taken by the driver: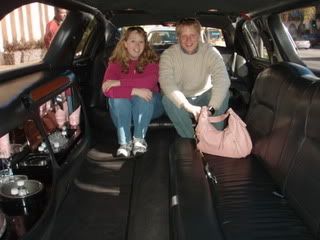 At the CBS studio - Anthony snapped this before the bouncer/guards scolded us for having the camera...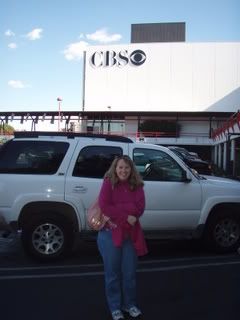 After we went through the metal detectors, we were taken through the studios to some dressing room areas. They tape two shows a day so the previous guests were literally kicked out of the room, they cleaned it (well, sort of, you can read more about that at
Anthony's blog
if you'd like). But they did slip my name in the door:
The Green Room - which is not green and even my Hollywood friends could not explain to me why they call this the green room.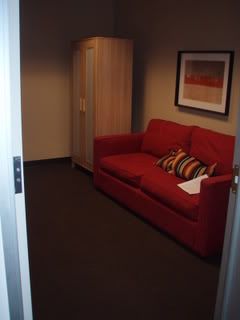 I didn't run into anyone else from the show untuil I got to the make-up room. This is where I had my first encounter with Fiona - a witch who looks fairly normal, despite the goat skull tattoo on her arm. But normal looking or not, wow did that girl have some serious demonic activity around her! You can see her just past me in the photo. Of all the guests, she is the one that I felt the most warfare with. I prayed the whole time I was next to her, and honestly, felt totally sustained by prayer the rest of the time I was there. It was like nothing in any of those people could touch me or come near me.
So a very special thank you to the many, many of you who prayed for me. I felt it!!
Make-up complete - I even have on false eyelashes. I kind of felt like I should be working Sunset Blvd instead of just staying there!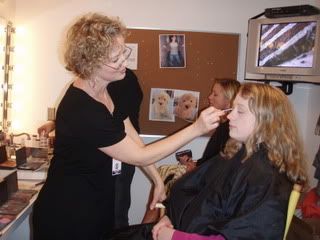 On to hair:
I think she regretted choosing to straighten my hair when she realized just how much I have. It took her a good long time to do it.
The results, after hair, make-up and wardrobe (they let me wear my own pants but gave me the sweater and the shoes to wear: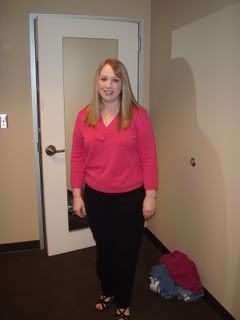 The straight hair was a dramatic change for me, but fun.
During this time I had to read and sign a release (hilarious - basically they take responsibility for nothing) and the producer kept running through what Tyra would ask. Just before the show started, the head producer came in and told me that Tyra wanted me to know that she did not want to do a show on witchcraft and that she was very glad that I was there to share a different viewpoint.
Then, I settled in to watch the show: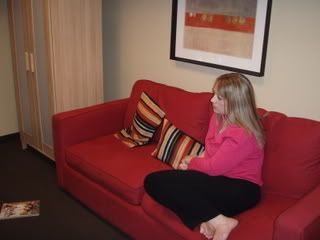 The show basically went like this:
Three "white witches" (including Fiona) shared their thoughts about their beliefs.
A solitary witch, who they show being inducted into Fiona's coven (the lady I mentioned earlier,
Two witches who practice "dark arts" and own an occult shop
Two Satanists (the man apparently was the first child born into the Church of satan, which was started by his grandfather.
Then me.
In that order. I won't repeat the episode (and all of the horrible untrue statements that were made) because it will be on the air in two to three weeks. I watched about half the show before they walked me to the backstage area, put a mic on me and touched up my hair and make-up.
When it was my turn, they walked me out on stage and sat me on a stool. Tyra came out, said hello and within seconds we were on camera. She asked a few questions but I found it hard because I didn't have time to tell the whole story. I was able to tell the part about burning all my witchraft stuff. But overall, I don't know how it went. It was over so fast. Then as soon as the cameras turned off, Tyra patted me on the knee, said "Thanks for being here." and was gone again.
I was sitting there all by myself and since I didn't know what to do I just looked around the audience, random people throughout the audience smiled, waved or gave me thumbs up signs. One sweet lady mouthed "You did great." and that made me feel better.
Then they set up chairs for all of us to sit in one long row for the Q & A part. They sat me next to Mr. Satanist. Well, there wasn't much time left and Fiona had shamelessly planted two friends in the audience to promote Fiona's new book of spells and ask for directions to perform her favorite love spell (which Fiona obliged with). Boy do I hope they edit that part out! Then I think Tyra asked what Fiona thought about my story. Her voice sounded even and kind even as it dripped with venom. She blew off my story as just a lonely troubled teenager. I thought she was going to get the last word but Tyra then looked at me and asked, "What do you think of that Sarah?" It was here that I felt that surge of God inside of me and responded, not on my own, but powered by God himself. I don't even remember all I said (but pray they leave this in!) I do know that I ended with the statement that even though those onstage would disagree that I believed that there was only one truth. Tyra said something like, "Well, I think most of the audience and I would agree with that." Everybody clapped, and it was over.
So, it was a truly amazing experience - and I'm so glad I was given even a small chance to point to God. I hope I was able to bring Him glory.
After we left the studio, Anthony and I met up with Mollie and we had a great evening catching up and eating dinner toegther. That was the icing on the cake for me.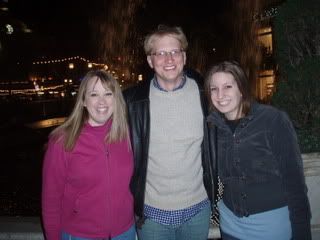 So, they say it will air in two to three weeks so I'll let you know when it gets scheduled. In the meantime, please pray for the editing process, and the two million some people that will see the program - may they not take any of the bad advice or be lured into any of that horrible stuff. I did talk to the producers about having a link on tyra.com and they seemed to think that would be fine. So hopefully, they'll find information on the good stuff too.